After choosing the university and field of study there is time to make another important decision – where will you live? Leaving your family home and country is a huge change in everyone's life, and you will experience your ups and downs while studying in the new apartment. That is why it is important that you feel comfortable in your new home.
In the UK, there are two types of dorms: college – "halls of residence" and private. Colleges and universities are often located on campus or close to universities, but places are limited. That is why many students decide to rent a room in a private dorm. It is worth considering which option will be better for you.
Why choose a dormitory?
Location
Dormitories are usually located directly on the campus or in its close vicinity. . This reduces the time spent traveling and also saves on transport.
Certainty
For most foreign students, the choice of housing / dormitory is via the Internet and at a distance. Unfortunately, it is often heard of cases where someone was cheated, the deposit was forfeited, and the "rented" apartment did not exist at all. Dorms are also rented via the Internet, but in the case of university dorms, they are done via the official university website or UCAS. Specific private dorms are usually recommended by the university, so you don't have to worry that you won't be there when you arrive at the address you provide. Some colleges, such as the University of Bedfordshire, guarantee first-year students a place in dorms.
Security
Dormitories are closed buildings that only students can enter. Most of them have a 24-hour reception and are additionally guarded by security. Monitoring allows control over the entire building, and each guest should identify and identify the person who invited him. It is comfortable not only for students, but also for parents whose child goes abroad alone.
Student life 
Living together with other students has great advantages. First of all – you will not feel lonely and quickly make new friends, and students of the same fields can support each other in learning and prepare projects together. Also, dorms are never boring! Building managements often organize parties, movie nights or competitions, and residents are happy to organize parties individually, in designated areas.
No bills
Renting a dormitory is very comfortable for young people who are just learning an independent life. All utilities are included in the room fee, so you don't have to worry about paying your bills regularly. The only formality that you usually have to take care of yourself is the fee for the TV license.
What does an English dormitory look like?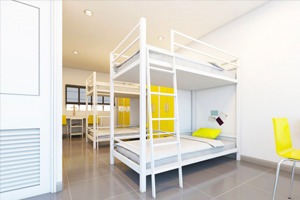 Dormitories vary in size – there are tiny buildings for 50 people or 20-story buildings for 800 students. Most English dormitories (both university and private) are furnished flats with a shared kitchen and / or living room. A very popular option (and one of the cheapest) are en suite rooms – rooms with private bathrooms, most often 5-6 bed apartments with shared kitchen. In private dorms you can rent your own apartment – studio, but the costs are quite high. The buildings also have common areas for all residents – a hall or living room with couches and TV, and sometimes also places to study. Private dorms are increasingly providing their residents with a gym or swimming pool (free of charge).
Student residence in England – cost
The cost of student residence in England varies greatly. The location price as well as the size of the city affect the rental price. In London, prices start at £ 140 per week for an en-suite room with private bathroom, and up to £ 500 per week for your own studio. In smaller cities in England you can find en-suite rooms from £ 70 a week.
When renting, it is worth checking how the fees are spread, because there are different forms in England – it can be monthly payment, for a semester, or for the whole year in advance.
How to rent a room? 
It is best to search for private dorms through Student.com portals that compare only offers from proven companies. When renting a room from a private company, you may be asked to indicate a Guarantor – a person resident in the UK, who, if you do not pay the rent, will have to pay a fee.
Each university has an "Accommodation Office" which you can contact at any time for help in finding and choosing a dormitory.
What do you need to pack when moving to a dormitory?
The dorm rooms are furnished – usually they have a bed with a mattress, a wardrobe and a desk with a lamp. All you need is your own bedding. The common area – kitchen / living room usually has a kettle, toaster, microwave, vacuum cleaner, mop and iron and ironing board, so you don't have to worry about it. However, each resident must have their own dishes, pots and kitchen utensils.